Spring into spring cleaning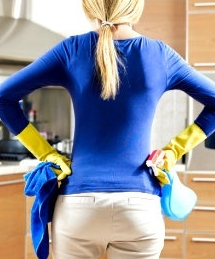 The spring season brings rain, sunshine, warmer days, and even the start of baseball season. But we fail to appreciate the importance of the infamous spring cleaning that comes with the season. Spring cleaning can take place in many forms: spring cleaning your car, spring cleaning your home, spring cleaning your locker/binder/school areas. As the spring season approaches, Normal West students may begin to ponder partaking in this popular spring activity.
Spring cleaning to me, means a fresh start. I enjoy cleaning out my school areas, my car, and especially my bedroom. The act of spring cleaning relieves me of stress and clears clutter out of my life.  The feeling of newness will result from this cleaning, and all people should engage in this activity.
Crosswalk.com shared that The International Communications Research (ICR) conducted a survey for the Soap and Detergent Association (SDA)—an association who provides information about cleanliness in the home. The survey offered the following results about engaging in regular spring cleaning: 88% of people say that cleaning is important for "happiness, health, and safety", and 97% agree that cleaning contributes to the longevity of items in the home.
It is evident that the majority of people feel that cleaning in the spring time leads to positive feelings, and positive physical results regarding items in the home. Having a cleaner home leads to a cleaner, healthier lifestyle. A home free of dust, dirt, and mold welcomes health and happiness, too. Spring cleaning can prevent families from illness, and from negative feelings associated with the stress of a dirty home.
Homesessive.com displays benefits received from partaking in this event highlighting the assurance of health, as cleaning serves as an exercise outlet. Many people who engage in spring cleaning clean multiple areas, and can get a good workout from performing the designated task involved in cleaning.
Spring is almost here, and spring cleaning has too many benefits for Normal West Students to ignore this season.