APEX: Getting students back on track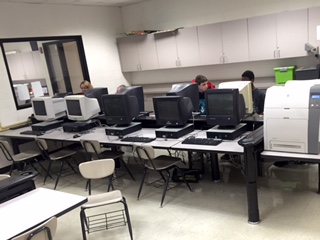 Normal West offers APEX, an after school program for students in need of credit recovery from 2:45 to 3:45 Monday through Thursday after school. Students of any grade who are in need of credit recovery are eligible to sign up with their guidance counselor for this program to work in classrooms to complete online work to make up for failed classes.
Mrs. Davis, Normal West Associate Principal shared that the program is offered both semesters at West, as well as in the month of June for the duration of three weeks.
APEX sessions are supervised by Normal West teachers including English teacher Mr. Hoder and special education teachers Ms. Franks, Mrs. Ganslien, and Mrs. Stephenson. APEX adviser, Mrs. Ganslien, spoke a little bit about the credit recovery program: "kids in this program are supposed to be self-directed and independent in that they work on their own to gain back credit needed. However, this program does not allow students to raise their GPA."
One anonymous APEX student  offered surprising and unique insight about the credit: "all you do in APEX is answer questions online where you can then Google the answers; it's kind of pointless and the credit received is definitely not worth the credit you get in the actual class." However, another student had a positive outlook on the program. "APEX is helping me because I'm getting credit for a class I failed."
For any students who are in need of recovering credit for any class should consider signing up for APEX APEX sessions last about three weeks and students are recommended to attend four days a week. The first class costs $100 and any following class is $50.