Students show their PRIDE through local college organizations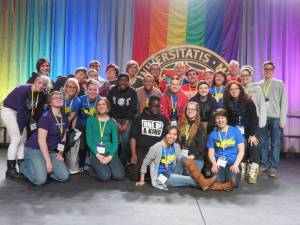 Local colleges ISU, Heartland, and Wesleyan have started back up with their community's PRIDE groups. As the school year starts up, so do the local student body's PRIDE organizations.  PRIDE is a type of gay/straight alliance group centered on making a no-judgment environment where people can be themselves and get to know others.
According to its Facebook page, the ISU PRIDE's mission is "to provide a safe, social, and educational atmosphere for the . . . people of Illinois State University and the community." Heartland's PRIDE group centers on the same thing, stating that they are ". . . dedicated to the support and celebration of LGBTQ+ rights, topics, and individuals!"
West student Gracie Abraham talks about her experiences going to PRIDE ISU, "I think PRIDE is really helpful for people who have maybe just come out because you get to hear about people who have had some of the same struggles as you have. Just to know people that have had similar experiences to you is really nice."
At the meetings she went to, Abraham tells about getting to know the other people there as well as being able to hear from various members of the LGBT society who talked about coming out and the challenges they faced.
In our school, a gay/straight alliance does not exist any longer, possibly because of the fear of judgment in high school; "it was a little scary at first, but people here are generally accepting. I had more of a hard time in a family setting because I feel like this generation is more accepting of gay people."
Abraham leaves a last comment to those who are having trouble coming out and accepting themselves; "I wouldn't force yourself to come out too early because that could make it a really frightening experience. Really just come out when you are totally comfortable with yourself and telling other people. Definitely being able to be confident in yourself before telling other people is an important thing and you don't need to come out just because people say it's the right thing to do."
The ISU's PPRIDE group meets every Wednesday from 7-8:30 pm in the Student Services Building Room 375.