College applications take West seniors toward futures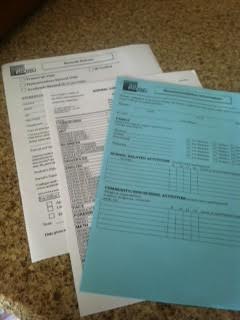 West seniors begin first steps to getting into college by filling out applications and applying to schools this fall. As fall has now approached, most schools have now opened their applications. bigfuture.collegeboard.org is a website that answers many questions about the application process.
College application deadlines vary from school to school, but many applications must be submitted by December 1st.
The college application process is similar for most schools, and can be broken up into four different parts: the test score/GPA submission, the essays, letters of recommendation, and the actual application.
Most colleges accept either ACT or SAT scores, and have set requirements as to what accepted applicants should score.
Transcripts are another component of the application, which are provided in the counseling office to students for $3. Students must fill out a handout which specifies which schools transcripts will be sent to.
Essays vary from school to school. Some schools use the "Common Application" with a universal essay prompt that can be answered in the same essay for multiple schools. Not every school requires an essay/ essays to be written.
Letters of recommendation must be obtained from either a teacher or counselor; preferably one with a close relationship to the student.
Each school's application may be different as well in regards to what they need from prospective students. Some schools may ask for extracurricular activities and achievements throughout one's high school career. Other schools may not need this information, and instead purely base their application on grades and test scores.
Normal West Counselor Mrs. Marty Tarmann gives suggestions for all students regarding applications here at West: "I would like students to know that choosing a school is a process. Many types of schools should be visited so that students know what size of school they want and what location they prefer. I also suggest students do something each year of high school to prepare for college, starting with research and visits as early as sophomore year."
Mrs. Tarmann also stresses the importance of being involved in activities all throughout high school, not just junior and senior year.
Normal West senior Lindsey Turner student shares her experience in applying to schools: "I've already applied to three out of my six schools." She says that she's completed general applications, written essays, and submitted her ACT score and her transcript to all three schools.
Applying in the fall to school is crucial, because it ensures met deadlines, and better possibilities for acceptance.