Batman v Superman takes the screen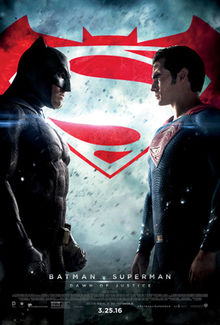 Batman v Superman: Dawn of Justice, directed by Zack Snyder, was released in theaters on March 25, 2016.  With actors such as Ben Affleck, Henry Cavill, Amy Adams, Jesse Eisenberg, audiences expect the best.
Both Batman (Ben Affleck) and Superman (Henry Cavill) are superheros, so the big question is why are they fighting? The basic plot summary is Superman had a battle with Zod that devastated the city of Metropolis, resulting in the loss of life and collateral damage. These events left Bruce Wayne (Batman) feeling angry and helpless and he was convinced Superman was a threat to humanity and set off to end his reign on the world. Batman and Superman fight, but then join forces to defeat Lex Luthor. 
Batman v Superman is the first live action film to feature both Batman and Superman, as well as the first theatrical film to feature live action portrayals of Aquaman, Cyborg, Wonder Woman, the Flash, and Lex Luthor.
When hearing two of DC Comics' most iconic  superheroes are to battle it out one would think the movie has the necessities to be epic, but sadly this movies seemed to fall a little short. When reviewing the movie for The Telegraph Robbie Collin stated , "No major blockbuster in years has been this incoherently structured, this seemingly uninterested in telling a story with clarity and purpose. It grumbles along for what feels like forever, jinking from subplot to subplot, until two shatteringly expensive-looking fights happen back to back, and the whole thing crunches to a halt."
Normal West junior Lacy Hickman stated, "I went and saw this with a group of friend and everyone had different opinions. Honestly I thought it wasn't terrible, but not great. The story line could have been better and the movie definitely didn't reach the potential it could have."
According to Forbes Magazine Batman v Superman has made about $682.85 million worldwide. With mixed reviews it is truly unclear if the movie is worth watching. DC Comics had an endless amount of potential for this movie, and it seems to have fallen short.