Fans rave over protagonist in The Age of Adaline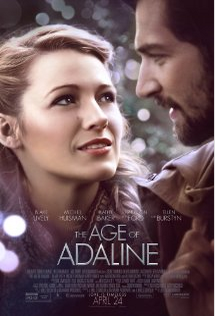 Written by J. Mills Goodloe and Salvador Paskowitz, and directed by Lee Toland Krieger, the new fantasy romance The Age of Adaline was released April 24. The film revolves around an issue regarding a young woman who has been 29 for 8 centuries. As assumed, the movie carries through life experiences of Adaline Bowman through multiple decades.
The IMBD summary reveals "A young woman, born at the turn of the 20th century, is rendered ageless after an accident. After many solitary years, she meets a man who complicates the eternal life she has settled into." This epic romance is centralized around this problem of the protagonist played by Blake Lively.
Blake Lively, Michiel Huisman, Kathy Baker, Amanda Crew, Harrison Ford, and Ellen Burstyn star in this movie and play the characters Adaline Bowman, Ellis Jones, Kathy Jones, Kikki Jones, William Jones, and Flemming Prescott.
Though critics have given the movie fairly average ratings, they praise the lead, Blake Lively. Blake Lively has already been vastly popularized through her lead in the TV Drama Gossip Girl, as well as her roles in the movies The Green Lantern, Savages, and The Town.
The Independent has explained the romance has, "given her an opportunity to deliver a melancholic performance that we've not seen from her before." Many fans believe the movie was a "coming of age" experience for the young actress, and has led to her maturity on screen.
Lively herself was thrilled to play this role and felt it was a blessing to have the experience; she said: "I think most actors dream of being in a period film and I not only got to be in a period film, but to be in a multi-period film. That's incredibly rare. Exploring what women were like in each of those different decades and trying to adopt certain mannerisms and speech habits and physicalities. That was really appealing as an actor. Just as a girl who appreciates design, I was incredibly excited about the wardrobe and the hair and the make-up for this film."
Normal West students not only commented on the movie, but raved about its excellence. Senior Lindsey Turner shared: "I wanted to see this movie because the trailer looked really interesting and unlike anything that has come out before. I think it's worthy of winning awards, and it consisted of many powerful themes, especially at the end when Adaline learns a literally life-changing lesson."
Also, Sydney Powell (12) offered, "I really like Blake Lively and felt that she entirely fit the role of Adaline. The whole plot line and cast of the movie was wonderful; Lively could even win Best Actress for it. My favorite part was the ending of the movie when learned to not run away."
This new epic romance is now playing at all theaters in Bloomington-Normal.