Summer movies sure to please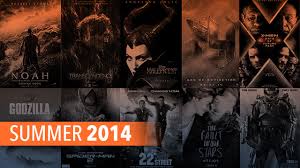 The summer movie season is notorious for boasting absurdly large-scale productions in every genre, and 2014 may have the most exhilarating films yet. While classically popular superhero movies sporting explosions and exciting combat will likely draw the most attention, fear not: comedy, romance, mystery, family, and horror films will all grace movie screens far and wide, and hopefully, be crowd-pleasers.
Topping the list of must-sees are exciting, big-budget action-adventure movies. This summer's most anticipated films are X-Men: Days of Future Past, a continuation of the successful X-Men series that is sure to do well at the box office, Maleficent, a Disney classic with an unusual twist and a leading lady sure to please (Angelina Jolie), and Godzilla, a classic remade perfect for monster-lovers. Transformers 4: Age of Extinction is also mentionable, as the franchise is in for a huge change after the main male character, Shia LaBeouf, was replaced with Mark Wahlberg in a change that intrigued some fans and infuriated others.  Megan Fox takes a starring (human) role in live action Teenage Mutant Ninja Turtles, which many argue will both be a flop and destroy childhood memories.
Summer comedies include Seth MacFarlane's A Million Ways to Die in the West, a western spoof that promises absurdly R-rated humor in an attempt to create this generation's version of Blazing Saddles. The sequel to the outrageously popular 21 jump street, unsurprisingly titled 22 Jump Street, also is sure to please crowds interested in slapstick comedy. For more family-friendly humor, fans of Adam Sandler and Drew Barrymore should check out Blended, a comedy about a family trip to Africa.
Romantic films aren't usually in season in the summer, but with best-selling novel The Fault in Our Stars debuting in theatres, love may have a shot. This poignant young adult novel takes a surprising and heartfelt stance on dealing with both love and illness. For family films, How to Train Your Dragon 2 is likely to make a big splash, as the main character from the original film, Hiccup, has been re-designed to look more grown up. Earth To Echo tells the story of a group of kids meeting a strange visitor from another planet- think ET redesigned.  Suspense and horror movies like The Purge: Anarchy, a reboot of last year's hit, and Deliver Us From Evil, starring Eric Bana as a skeptic dealing with some devilish scares, are sure to send shivers up the spine.
Young or old, those with a taste for adventure and excitement should visit the pictures this summer- there's certainly something for everyone.