Internet sensations parallel iconic stars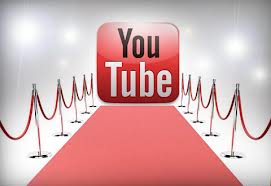 Society flocks to and adores actors and musicians in Hollywood. In this generation's connection to the internet, it is more common to see people growing attached to internet sensations as well.
An internet celebrity, cyberstar or online celebrity is someone who becomes famous through the internet, whether it be a blog, YouTube channel or more recently, Vine.
YouTube is a popular internet site where people can submit a variety of videos. There are musicians, vloggers or video bloggers, beauty advisors, comedians, gamers, and so much more.
YouTube fame refers to recognition received through uploaded videos that become viral on the website YouTube. Famous YouTubers get paid on the job but a little differently than well-known Hollywood stars. YouTubers sponsor products, sell their own merchandise, and earn money for going on digital tours known as the DigiTour.
YouTube fame stretches to all other forms of social media as well resulting in thousands, even millions, of followers on Twitter, Instagram, Facebook, and Tumblr.
Famous YouTube vlogger, Tyler Oakley currently has over 4.3 million subscribers on his channel and 2.2 million followers on Twitter. Tyler started off vlogging about his opinions on bands, beliefs, and other things appealing to him. After gaining so many subscribers online, Tyler gained the opportunity to interview one of his favorite bands, One Direction. He has made several appearances on the red carpet interviewing Hollywood celebs.
Another online success story is Justin Bieber. Justin Bieber credits social media for his success. When he was fifteen talent manager Scooter Braun discovered his videos on YouTube, prompting to arrange a meeting between Bieber and Usher.
"Without the internet and without YouTube, I wouldn't have gotten the chance to put my music out there and have people hear it," Justin Bieber said in an interview with Forbes magazine.
Now Justin Bieber is one of the most talked about musicians – besides Miley Cyrus. By the time Bieber was 18, he had three albums, 23.8 million followers on Twitter and 2.6 billion views on his YouTube channel. Several others, like teen sensations Austin Mahone and Cody Simpson, followed in Bieber's footsteps creating youtube videos showcasing their talent as well.
Senior Angela Woodard was personally not a fan of the Biebs until after he gained Hollywood success, "I'm grateful that he started posting his music on YouTube. If he hadn't he wouldn't have become the big success that I adore."
The YouTube spotlight isn't just for musicians and vloggers. Arielle Woodard, a junior, enjoys spending her time on YouTube watching beauty bloggers, "I love how sweet the beauty bloggers are. They are very talented and I plan to use some of their tricks for prom night!"
Another popular genre in the YouTube community belongs to the gamers. These guys spend their time recording themselves playing the game along with their reactions.
This is especially popular with indie horror games such as Slenderman or Amnesia.
PewDiePie, a Swedish video game commentator,  is ranked number one in several categories including the highest paid YouTube. As of April 2014 he has 26 million subscribers. He earns seven million dollars annually.
When John Roop, senior, learned about YouTube success, he was quite intriqued," Wow. That's definitely shocking. I know if I could just sit around and talk about or do something I love and earn THAT kind of money I would leap at the opportunity!"
For teenagers, it's a whole other set of idols who aren't on TV or in magazines. There is a parallel universe out there on the internet. Stars don't just start online, they live there.