Wicked headed to the big screen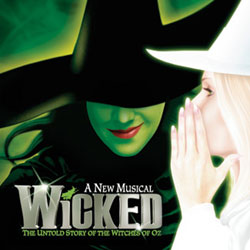 Wicked is one of the most iconic broadway shows ever. Many fans have been waiting for it to make it to the big screen. Finally, Universal Pictures, has announced that it is currently working on making the classic broadway hit into a movie.
The story follows Elphaba, a smart, green-skinned, college-bound girl who becomes the Wicked Witch of the West. Her younger sister becomes the Wicked Witch of the East. On Elphaba's journey she becomes best friends with the popular Glinda who becomes the good witch.
Expectations are high for the movie because of how successful and iconic the broadway production is. Wicked made its stage premiere in 2003 and won multiple Tony awards in the 2000s.
Composer Stephen Schwartz (responsible for the music behind Wicked, Pippin, Godspell, and Enchanted) is hard at work developing the beloved play into a movie. In an interview with Vulture.com, Schwartz talked about the hurdles in making the movie, "What are we going to change? What are we going to keep? How do you use a whole new language and medium to tell the story? [We can] really look at it again and say, 'Oh, we can do this, and we've always wanted to do that and we couldn't onstage, but we can in a movie.' We're actually having a blast."
It is rumored that Stephen Daldry will be directing the movie.
Producers are already starting to plan who they would like to be in their cast. They have openly stated that they are hoping to score One Direction singer, Harry Styles, as a part of their cast. A source told the Sun, "Moviemakers see him as a new Zac Efron and think he would be a perfect casting for a movie musical. He is top of the Wicked team's wish list to play the romantic lead role of Fiyero."
Fans of Wicked have already been coming up with their dream cast and the most popular selection is Glee star, Lea Michele, as Elphaba, Amy Adams as Glinda the good witch, Meryl Streep as headmistress Madame Morrible, Kelsey Grammer as the Wizard and Daniel Radcliffe as the put-upon Boq.
When asked about the dream cast for the movie, senior Emily Lewis commented, "Lea Michele is great. She is like a younger Idina Menzel. Amy Adams should be good because she played a similar role in Enchanted. Harry Styles would be good but I fear that fans will think the band is splitting up if he takes this role."
It is unknown when the movie will premiere.